Subscribe To Win: Three £100 Gift Vouchers Up For Grabs

Being subscribed to the Black Library newsletter is pretty great – you get the latest news, releases, reveals and deals straight to your inbox every week.

As a thank you to our subscribers, we're giving you the chance to win one of three £100 vouchers to spend on games-workshop.com.

How Do I Enter?

It's easy! Just subscribe to the newsletter here, and every month for the next three months, we'll randomly pick three lucky subscribers to win £100 to spend on any books they like. Make sure to subscribe between now and the 30th of June to enter the first draw and maximise your chances of winning!

If you're already subscribed to the newsletter (you're great) and you're already entered into the draw.

Good luck!

Subscribe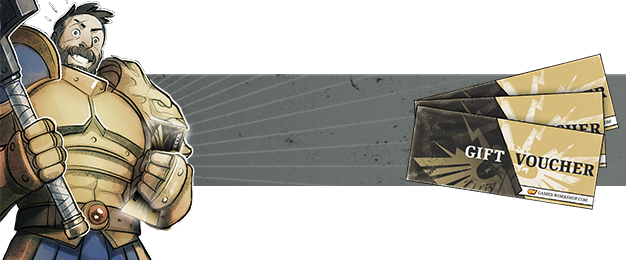 Terms & Conditions

1) Entry is free and open to all eligible participants who satisfy the requirements below.

2) No purchase necessary to enter or win.

3) To enter, you must subscribe to Black Library's email newsletter at www.blacklibrary.com. This newsletter will provide you with Black Library news and product information. Existing subscribers will be entered automatically.

4) Unsubscribing from the email newsletter will remove your entry from the prize draw.

5) One entry per person.

6) The competition will open on 25 May 2018. The competition will close at 23:59 on 30 June 2018.

7) All email newsletter subscribers will be entered into a prize draw. 3 (three) winners will be chosen in total.

8) The draws will be made by random selection. The prize draws will take place at 23 Liverpool Street, Ingleburn NSW 2565, Australia at 10am (AEST) on the working day following the close of the competition. The chance of winning depends upon the number of email newsletter subscribers. Those selected from the draw will be notified via email within 7 days of being selected.

9) Each prize will be a virtual gift voucher for use at www.games-workshop.com.

10) There are 3 virtual gift vouchers to be won. All entrants will be in with a chance of winning one virtual gift voucher. The currency and exact value of each virtual gift voucher will vary depending on the countries of residence of the winners. The table below provides details of the currencies and values of the virtual gift vouchers. For example, a winner residing in the United Kingdom would receive a virtual gift voucher of £100.


| | | | | | | | | | | |
| --- | --- | --- | --- | --- | --- | --- | --- | --- | --- | --- |
| GBP | EURO | DKK | SEK | NOK | PLN | USD | CAD | AUD | NZD | JPY |
| £100 | €120 | kr 1000 | 1100 k | kr 1000 | 500 zł | $140 | $160 | $190 | $240 | ¥17,000 |
11) The total prize pool value is: GBP £300 / AUD $570.

12) If an entry is drawn which belongs to a resident of Canada, they must correctly answer a skill-testing question in order to win a prize, in accordance with Canadian law.

13) Prizes are not transferable and no cash alternatives will be offered. Prizes cannot be returned or exchanged unless faulty.

14) Prizes will be sent electronically by email.

15) Participants in receipt of a voucher must use it before its expiry date or the prize shall become void.

16) A potential winner is not eligible for any prize unless they have fully complied with the requirements of these official rules and they have been notified they are a prize winner by Games Workshop.

17) Entries may be rendered void if any of the Terms and Conditions are breached. If a winning entry is rendered void, a redraw will take place to select another winner.

18) Prizes must be claimed before 7 October 2018. If the winners have not claimed their prize by this date, then a redraw will be held. This redraw will take place at 23 Liverpool Street, Ingleburn NSW 2565, Australia at 10am (AEST) on 8 October 2018. The redraw will be made by random selection. Those selected from the draw will be notified via email within 7 days of being selected. The redraw winners may also be announced online. The winners of the redraw must claim their prize within 3 months. If the prize has not been claimed within this time, then the opportunity to win the prize will be lost and the competition will be finished.

19) By claiming a prize, the winners agree that Games Workshop can use their name and place of residence (in the format of Rob W of Sydney, Australia) for advertising and promotional purposes and for the purposes of fulfilling legal obligations. Details of the winners may be published on Games Workshop's websites and social media pages.

20) Games Workshop reserves the right to vary any of these Terms and Conditions without notice. Any change, modification or suspension of this promotion is subject to the relevant state and territory regulations in Australia and will only be effected following the grant of permission from the Australian state bodies which issued the permits for this promotion. In such event, Games Workshop will make reasonable efforts to communicate any change with entrants.

21) Entries from trade partners or employees of Games Workshop, their families, agents or any other person connected with the administration of the competition will not be considered.

22) These rules are governed by the laws of England and any dispute relating to the promotion will be subject to the exclusive jurisdiction of the English courts. Entry indicates acceptance of the rules as final and legally binding.

23) Promotor Details: Games Workshop Limited, Willow Road, Lenton, Nottingham NG7 2WS, +44 (0)115 914 0000

24) Games Workshop Limited Australian Business Number: 27 207 794 257.

25) This competition is open to residents worldwide, excluding the Canadian province of Quebec and the Australian state of New South Wales.

26) This promotion is void where prohibited by law.

27) Data Protection: Any personal data provided to us in connection with this competition will be held and processed in accordance with our Privacy Policy. We may also use that data for administration of, and communication in connection with, this competition. By submitting your personal information in connection with this competition you consent to the processing of your personal data as set out above and you confirm that the information is accurate and complete.