Monday 12th of November, 2012
Warning! Contains Scenes of Graphic Violence
On today's blog, we're delighted to announce the release of Inquisitor Ascendant, a collection of classic comics from Dan Abnett, Simon Coleby and Jim Brady. The book follows the tale of Inquisitor Defay and his assistant Gravier as they are sent to investigate rumours of dark deeds on the planet of Nicodemus.
Check out these pages: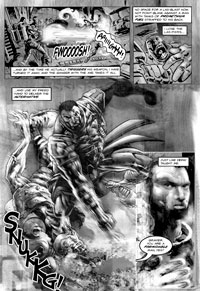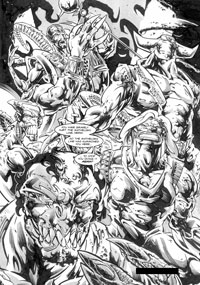 Originally released as a series of episodes in Warhammer Monthly, you can now get the whole story in one handy volume. Running to a whopping 168 pages, this is the longest graphic novel of its kind available from blacklibrary.com. As with Lone Wolves and Deff Skwadron, Inquisitor Ascendant invokes the style of classic British comics from yesteryear and provides new insight into the shadowy underbelly of Warhammer 40,000.
Dan Abnett is (rightly) famed for his Inquisitor series (Eisenhorn, Ravenor and Pariah) and with this new edition of Inquisitor Ascendant you can finally complete your collection of Dan's Inquisitor stories.
There are loads more graphic novels available direct from blacklibrary.com. Check out the full range here.
Posted by The Black Library Team