Thursday 20th of September, 2012
The Emperor's Might
The Emperor's Might, the second book in John Blanche's art book collection is the definitive collection of Space Marines art. Available to pre-order today, it is absolutely packed with glorious images of the Emperor's finest warriors.
We got a preview copy in the office and passed it around. Here are a few of our favourite pages: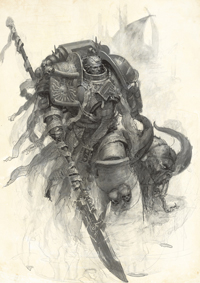 George Mann: I love the sense of movement in this piece, as the Grey Knight strides off, trailing purity seals in his wake. There's a look of grim determination on his face, too, as if he's preparing to go into battle. And the decapitated head and skulls he's carrying as totems perfectly capture the mood and tone of the Warhammer 40,000 universe.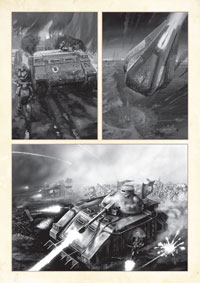 Andy Smillie: I really like this set of pictures, and I think they work great on a single page. Each of them captures the dynamism of the Space Marines, and their shock-and-awe method of warfare. The bottom image is a particular favourite. The original Predator is an iconic miniature from my childhood and what's cool is, thanks to John, it doesn't look out of place next to the newer drop pod art. Mr Blanche has done a great job over the years of ensuring there's a consistent feel to the art of Warhammer 40,000, and with it the miniatures and by further extension, the fiction.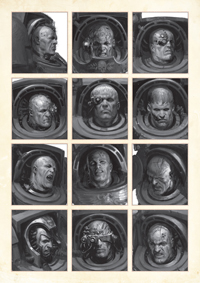 Darius Hinks: John Blanche has collected an embarrassment of riches in his latest art book, The Emperor's Might, but my favourites by far are these wonderful Terminator portraits. Every one of them is incredibly evocative. These are faces that have stared into the abyss and survived to fight another day. Their expressions, so wonderfully rendered by Paul Dainton, show every aspect of the Space Marines psyche: devotion, rage, tenacity and pride. There's an inhuman grandeur to them that Paul has captured perfectly.


Order your copy today to be among the first to own this fantastic collection. And of course, you'll get free shipping as well.
If you prefer your Imperial justice dispensed without the aid of power armour, check out the Emperor's Will, the first book in the series, which showcases the inquisition and assassins that make up the agents of the Imperium.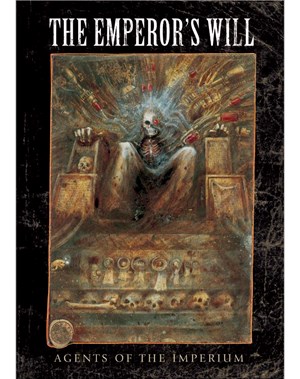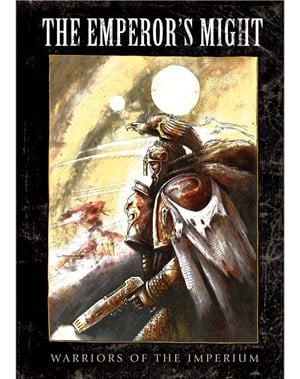 The Emperor's Will and The Emperor's Might will both be available to buy at the Black Library stand at Games Day UK on Sunday.
Be sure to join us tomorrow as Brotherhood of the Storm, Chris Wraight's new Horus Heresy novella goes on sale.
Posted by The Black Library Team