Friday 8th of February, 2013
Sylvanian Families
Shadows over Sylvania is Jonathan Green's second Path to Victory gamebook. His previous offering, Herald of Oblivion, saw you take on the role of an Imperial Fists Terminator and entering a xenos-filled space hulk.
If you've been following us on Facebook today, you'll already know that Shadows over Sylvania has you choosing between three vampire bloodlines and embarking on a perilous quest. Here's Jonathan to give you his perspective: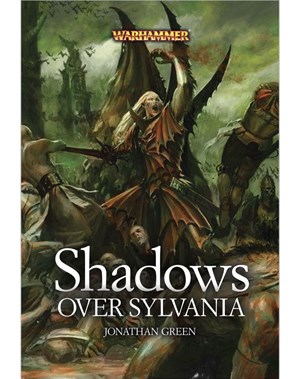 As you possibly know already, I love writing gamebooks. I love the freedom of narrative choice, the immediacy of the action that comes from writing in the present tense, the subverting of a reader's expectations whilst devising fiendish challenges for them to overcome... What could be better?
Well how about writing a gamebook about vampires? And how about a gamebook in which the reader actually takes on the role of a vampire? And then set it within the grim, war-torn world of Warhammer?
After all, let's face it, vampires are cool. There are few things in fiction that get the pulse pumping and the heart racing quite like vampires do.
They are the true masters of undeath and the most dangerous of the restless dead, since, whilst enduring the blood-curse – that can, on occasions, turn them into ravening beasts – they yet retain all the devious intelligence, ruthless ambition and profane desires they possessed in life. This means that they can continue to grow and learn, having an eternity in which to perfect their skills – be they those of a warrior or a sorcerer – not to mention their diabolical schemes, desiring, as many do, both temporal power and dominion over the living.
To put it another way, using modern parlance, vampires are badass. And Warhammer vampires are the most badass of them all.
So if you like the idea of reading a book in which you take on the suave guise of a von Carstein vampire, or a heavily-armoured Blood Dragon knight, or a seductive Lahmian temptress, and get to go up against the crusading armies of the Empire as well as other monstrous undead horrors, then make sure you order your copy of Shadows over Sylvania today.
And if you do find yourself poring over the adventure during the dark watches of the night, the silence of the tomb broken only by the rattle of dice as you battle the myriad foes set against you, just make sure you're back in your coffin before dawn.
Thanks, Jonathan.
Posted by The Black Library Team