Tuesday 8th of May, 2012
Chaos Space Marine Battles
We thought we'd take a break from the relentless raven-related ramblings that have filled the blog over the last week, and instead take a look at some shiny new artwork.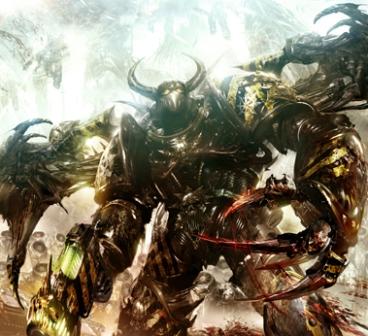 This is the art that's going to adorn the cover of The Siege of Castellax, a new Space Marine Battles novel by C.L. Werner. From the wings, hazard stripes and claws, you've probably guessed that this is about the Iron Warriors – Warsmith Andraaz (the mean looking guy on the right) leads his warband in the defence of his fortress against a system-crushing ork Waaagh! Will the masters of siege warfare hold out against the deadly greenskin invasion? You'll have to read the book to find out.
This will be a year of firsts for Clint. Not only does he get the chance to visit the grim darkness of the 41st Millennium, but he also gets to come to the UK (which is very similar in many ways, especially in November, albeit with slightly fewer Space Marines) for the Black Library Weekender. If you're there, you will even be able to get your hands on a copy of The Siege of Castellax a whole month before it's in stores.
While we promised we'd finished talking about The Unkindness of Ravens, we just found out that the servitors in the warehouse have shipped over half of the orders placed already, so if you were lucky enough to get one last night, then it'll be with you soon. If, on the other hand, you haven't picked one up yet, there are still a few copies available, but don't delay, we don't expect they'll last the night.
Posted by The Black Library Team