Thursday 26th of August, 2010
Hammer and Bolter: Black Library announces new download-only short fiction magazine
As I'm sure many of you are aware by now, Black Library will be launching a range of eBooks and audio downloads this October and making the worlds of Warhammer and Warhammer 40,000 come alive on your handheld device, iPad and MP3 player. As part of this launch, we'll be adding a new download-only short fiction magazine to our already heaving website. It's called Hammer and Bolter and the logo looks like this: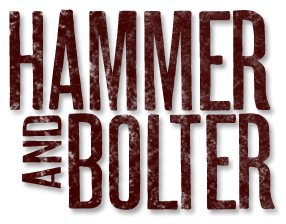 Looks good, doesn't it? Even more impressive is the line-up we've assembled for our giant-sized debut issue. Not only do we have a brand new Dan Abnett short story but we're also giving you a sneak peek at the first Chapter of Prospero Burnsa good three months in advance of its publication date. Ben Counter and the Soul Drinkers storm back onto the page with the first two chapters of Phalanx – the Black Library's first ever serialised novel that will be published in its entirety over H&B's first year of publication. Anthony Reynolds contributes an entire novella continuing the adventures of Calard from his Bretonnian Knight novels while Sarah Cawkwell makes her Black Library fiction bow with a tale of the Silver Skulls chapter of the Adeptus Astartes. And Nick Kyme is finally hunted down by The Inquisition and forced to answer questions about his current and forthcoming novels.
As exciting as all of the above is, possibly the most exciting thing about the first issue is that we have a previously unpublished John Brunner short story featuring none other than Gotrek & Felix! Written twenty years ago, the story has been sitting on various hard drives for the past two decades and, as far as we're aware, is the last remaining unpublished story by the Hugo Award-winning author who sadly died in 1995.
Each monthly issue will be priced at £2.50 and feature brand-new short fiction and advance previews of forthcoming novels along with the occasional interview and other special features, but to celebrate the launch of our eBook range the first issue will be absolutely free!
Your first chance to get hold of the debut issue will be at UK Games Day and it will be available from www.blacklibrary.com shortly after.
Posted by The Black Library Team